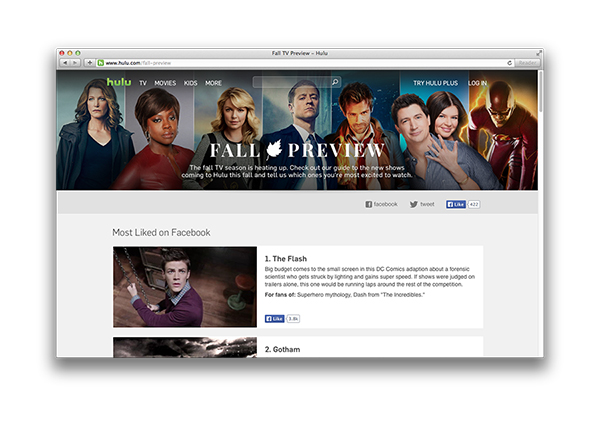 This fall is an exciting one for Netflix, iTV and Hulu, with Netflix leading the excitement! If you haven't already subscribed to Mediahint, so you can watch from anywhere in the world, below are more reasons to join now.
Netflix dove deeper into the comedy arena, launching this past Friday with a hilarious Jim Jeffries exclusive. Following up this month with exclusive Bill Cosby, Bill Burr and Chelsea Peretti. They also announced Chelsea Handler will have her special in October.
This is all on the heels of Netflix purchasing The Blacklist for reportedly $2 Million USD per episode and it starts streaming on Netflix September the 7th.
Hulu has taken their fall preview social, selecting the top picks based on Facebook likes, with The Flash (see the trailer) taking first spot this fall, with Gotham and Constantine in 2nd and 3rd. You can see the Fall Preview here. If you're outside the US don't forget to activate your Mediahint.com account now.
iTV has some fantastic content this fall as well. With the 5th season of Downton Abbey along with Grantchester, Prey and Broadchurch – see their lineup here. Not in the UK? Not a problem – Use your Mediahint extension and watch all this great content from anywhere in the world.
Happy Fall Watching!