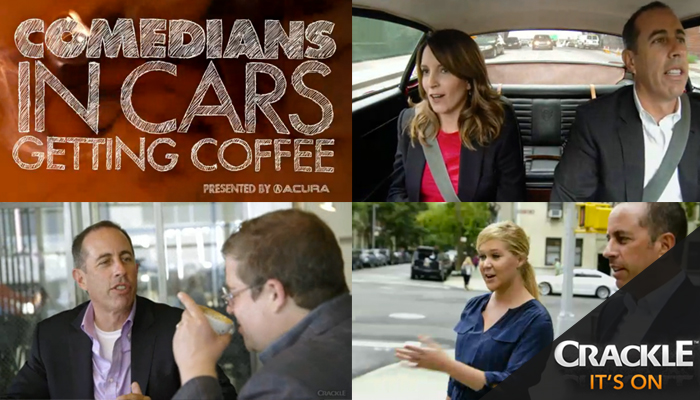 At MediaHint, we think it's pretty sweet that there are so many great websites full of fun things to watch, listen to and learn about. So many in fact, there may be some you've never heard of or haven't had a chance to check out yet.
We're working hard to add more supported channels every week. This site we've been supporting for a while, but you may not know much about it: Crackle.
Crackle describes themselves as "a new kind of network for a new kind of viewer." They've got an interesting selection of Hollywood films in genres like sci-fi, comedy, drama, action and horror. They also have a variety of tv series – some older shows you can't see many places and some newer ones too.
What's really neat about Crackle are their original series you can't see anywhere else. If you were ever a fan of Jerry Seinfeld or you just like comedians, check out the series Comedians in Cars Getting Coffee. It's a laid back, entertaining look at comedians just being themselves… and they're funny!
Follow along with Seinfeld as he drives around town in unique sports cars, vintage cars and sometimes old "death-trap" looking cars which almost always break down at some point, creating great reactions from the comedians involved. Seinfeld chats over coffee with comedians like Jon Stewart, George Wallace, Tina Fey, Patton Oswalt, Jay Leno, Seth Meyers, Ricky Gervais, Chris Rock and so many others.
Catch a quick episode of Comedians in Cars Getting Coffee while you sip your Saturday morning cup o' joe, or binge watch a marathon – all for free on Crackle – around the world using MediaHint!